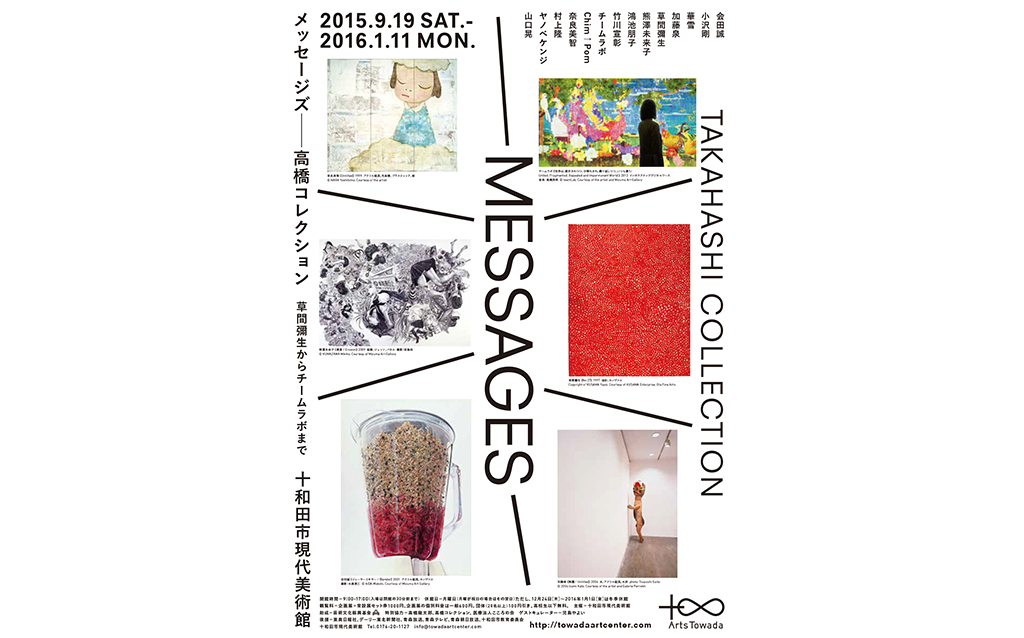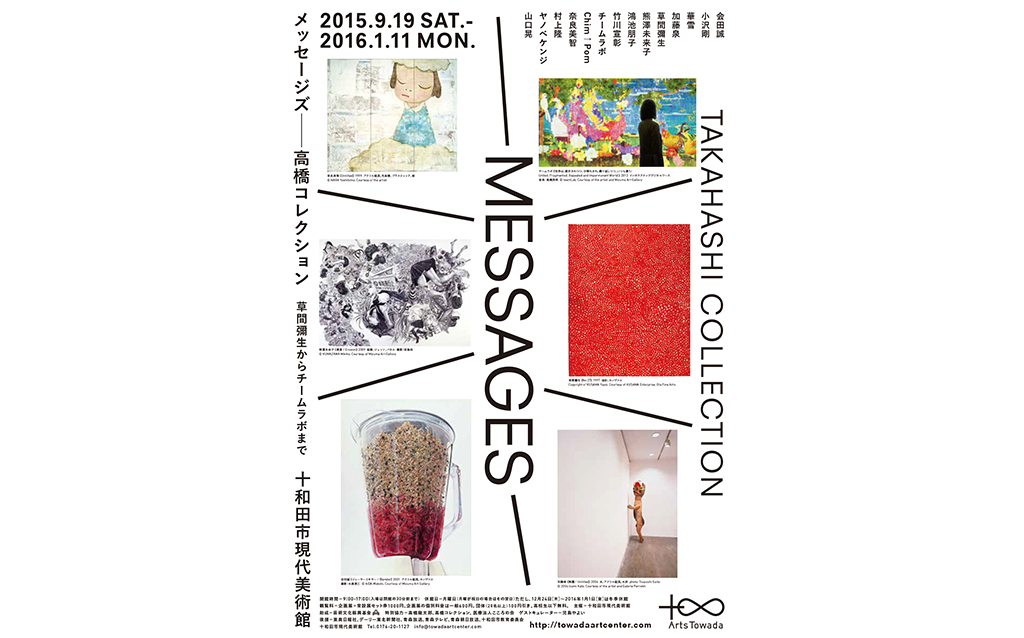 Messages – Takahashi Collection
August 30, 2015
Messages – Takahashi Collection Towada Art Center
Messages is the first-ever exhibition of the Takahashi Collection in Aomori Prefecture. To commemorate this occasion, the Towada Art Center will show Yayoi Kusama's precious early works alongside representative artists of the 1990s and 2000s: Yoshimoto Nara, Takashi Murakami, Makoto Aida, Akira Yamaguchi, Tsuyoshi Ozawa, Kenji Yanobe, Tomoko Konoike, and Izumi Kato, among others. Artists such as newcomer Nobuaki Takekawa, Chim↑Pom, Mikiko Kumazawa, Kasetsu, and teamLab will also be on display. Though focused on the power of paintings, the exhibition also features unique videos and three-dimensional artworks. The exhibition allows viewers to experience the works of 14 different artists of the same generation. Residents of Japan face a host of questions. Is it possible to maintain nature while enjoying the modern conveniences of daily life? How will the invisible connections made by the Internet change society?
 What is the cost of peace? Can we age happily? What can we pass on to our children?
 Artists also share these and other questions. Yayoi Kusama has continually spread her message since the 1950s, posing questions about love and peace to the world. The diverse messages of the artists, whose works acutely reflect our current age, affect us on a personal level. We can overlay our own stories onto the artwork to receive fresh insight on our daily thoughts. About the Takahashi Collection Contemporary art collector and psychiatrist Ryutaro Takahashi began his collection professionally in 1997. It is now renowned throughout the world for the sheer number of early works of Yayoi Kusama, Mono-ha artists, and leaders of Japanese contemporary art in the 1990s–a long list that includes artists like Yoshitomo Nara, Takashi Murakami, Makoto Aida, and Akira Yamaguchi. With over 2,000 items in his collection, Takahashi continues to seek out new works by young artists. A concurrent exhibition,
Cosmos \ Intime
, was held at the Maison de la Culture du Japon in Paris throughout autumn 2015/winter 2016. Message from Ryutaro Takahashi Art tells us not to get caught up in common sense. Come experience the pure joy of transcending it.
Artists
Makoto Aida Chim↑Pom Izumi Kato Kasetsu Tomoko Konoike Mikiko Kumazawa Yayoi Kusama Takashi Murakami Yoshitomo Nara Tsuyoshi Ozawa Nobuaki Takekawa teamLab Akira Yamaguchi Kenji Yanobe and more